You don't need to go anywhere for a drink, my bar can go to you…
Full service bar catering
We offer full service bar catering in the Czech Republic, for example for corporate parties, family parties, balls, festivals, concerts, exhibitions or trade fairs. Professional bar services on any party hit the jackpot every time!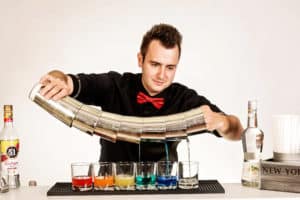 Mobile bars for any occasion
Our priorities are the highest possible quality based on years of experience and achievements, but also maximum precision, reliability and flexibility. We have mobile bars and complete equipment for both outdoor and indoor events at our disposal. Our mobile bars can be delivered anywhere, so we can provide full service bar and beverage catering for any indoor and outdoor event.
Cocktail menu on request
We offer classic cocktails, but also so-called premium cocktails. We put our cocktail menu together according to your wishes. We will gladly recommend cocktails that are trending right now or that would suit your event. You don't need to worry about anything, we will take care of everything and you can enjoy your event with a cocktail made from quality ingredients, fresh fruits or herbs.
Services included with the bar catering
bartending show (flair, fire show or UV show)
full bartending service
cocktails preparation
soft drinks, wine, coffee and spirits service
tasting
we offer both catering types – budget and sales
Bar catering Prague, Brno, Ostrava or Hradec Králové…we will go anywhere you need us to!
If you want to enrich your event with our cocktail art, be it with our bar catering or bartending show, don't hesitate to contact me.